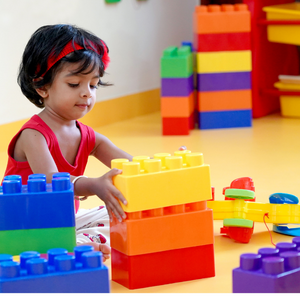 As we all know a preschool is a stepping stone to not only the academic life of a child but also life, in general!
Why?
Because a preschool is that physical space, which allows a child to learn at their own pace in an almost-home-like school set-up!
If you are a parent looking to enrol your child in a preschool, then these questions may have crossed your mind!
"Which is the best preschool near me?"
"At what age should I enrol my child in a preschool?"
"Do preschools offer daycare options as well?"
So, what can we do here?
In this blog article, we will be delving into understanding why preschooling is essential, what Flintoclass is, and why it is the best-suited preschool and daycare for your child!
Read on!
Why is preschool education important?
The answer is quite straightforward: to enable the overall development of your child in every avenue!
By the time a child turns 6, the brain is learning and re-learning new information as there is constant sensory and cognitive engagement on a daily basis.
Even various studies conducted show this. "Thanks to developmental neuroscience, we better understand how experiences in early life affect different stages of further development. Poor early development affects health (physical and mental), behavio(u)r, and learning in later life." (Importance of Early Childhood Education, Child Encyclop(a)edia)
Thus, preschool education or early childhood education essentially helps
nurture the innate curiosity
enhance cognitive and reasoning skills
enable physical and motor development
develop their emotional and social intelligence
foster better physical and mental health
Essentially, your child will be ready for formal schooling as well as for lifelong learning!
This is at the centre of Flintoclass's philosophy — to provide a child-centric supportive environment for young learners.
RELATED: Back To School: 9 Simple Ways To Prepare Your Preschoolers
More on Flintoclass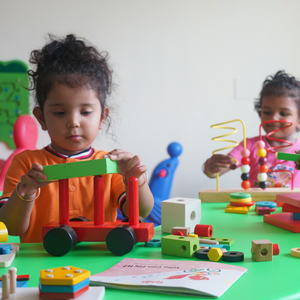 Flintoclass is a pioneer in early childhood education with a carefully designed curriculum for preschool-going children.
The learning for children is activity-based with a combination of visual, kinaesthetic, and auditory engagement. This ensures that your child has 575+ unique multidisciplinary experiences in a year!
Flintoclass opened its preschool and daycare centres across Chennai and Pune, which caters to the age group of 6 months to 8 years.
The preschool offers a stress-free learning space for preschool-going children with age-specific programs — Playgroup (1.5 – 2.5 years), Nursery (2.5 – 3.5 years), LKG (3.5 – 4.5 years), UKG (4.5 – years), Infant care (6 months – 1.5 years), Daycare & After School (1.5 – 8 years).
So, how does Flintoclass help your child in this vital journey?
Simple!
Your little one would learn through play, engagement, and repetition at its preschool and daycare centre.
Let's dive in to understand this better!
5 reasons why Flintoclass is the best preschool for your child
Typically, preschools are spacious to provide ample exploration areas for kids. There are indoor and outdoor play areas where they get to play in an unstructured manner.
A preschool offers scope for structured and unstructured learning; social and peer interaction, in addition to preparing children for regular schooling.
In Flintoclass, every small thing is paid attention to from convenience and learning experience to the various safety measures.
1) Child-centric approach
Imagine the brain of a preschool-going child, which is constantly lighting up with each interaction! Each child has a unique way of learning and inculcating new habits, skills, and experiences.
Children are at the centre of the core philosophy of Flintoclass and the educators are here to support them.
The learning style of each child is different — visual, auditory, kinaesthetic or a combination of these.
The curriculum and other everyday activities are designed in such a manner that each child can learn at their pace and style(s).
How does this help?
The child-centric approach enables an openness to explore, comfort in failing and trying again, and more importantly, long-lasting love for learning.
RELATED: How To Select The Best Curriculum For Your Preschooler
2) Safety measures
In any preschool, safety matters to ensure a stress-free environment for kids to thrive and learn.
In Flintoclass, the safety and security of the preschool are definitely top of the list.
Safe premises
Right from the time the preschool centre is set up, minute details are looked into such as ensuring the classrooms are skid-free, the space is child-proofed, the CCTV cameras are placed at all suitable locations, the pantry with no open fire policy, etc.
Daily safety checks
Every day before a child enters the preschool premises, the staff conducts thorough safety checks.
From ensuring the classrooms are dust-free to cleaning the premises at regular intervals throughout the day, each centre adheres to a safety to-do list!
The staff follows strict hygiene protocols.
Safety audit
Every Flintoclass centre is audited by its in-house team as soon as it is ready. This is even before kids enrol.
This is to ensure that the school is up to the safety guidelines and codes set by the government!
Once kids start attending preschool, an audit is conducted at regular intervals as well!
3) Research-backed curriculum
Flintoclass curriculum is the culmination of research and development by the R&D centre.
The curriculum takes the best of Waldorf, John Dewey, Multiple Intelligence, and Playway methodologies to ensure the learning outcomes are well-suited for preschool kids!
Activity-based learning
The primary philosophy of Flintoclass is that children learn through play.
This is backed by the research done by early learning experts — curriculum designers, game developers, product designers, child psychologists, pedagogy specialists, etc.
Through activities, each child learns at their pace with ample support from the educator.
Developing key skills
The learning outcomes of every activity designed have been tested and recalibrated.
Children are in no hurry to acquire or reach their developmental milestones but are gently guided to ensure they develop key skills through constant engagement.
A 1.5-year-old may not have the fine motor grip to hold a pencil, but they would be engaged in activities to strengthen the fine motor grip suitable for their age.
The fine motor activities for different age groups vary so that by the time a child enters LKG, say at around 3.5+ years, they have mastered tripod grip. They can hold a pencil using the thumb, index, and middle fingers.
Integrated learning
As we know preschool is a critical time when a child's brain is still absorbing and assimilating information at a quick pace. Thus, it becomes essential to ensure their learning is long-lasting.
Depending on your child's age group, the program is structured to introduce different topics in such a manner that they can be related to the world around them.
The application of what is being learnt is practical and kids will have visual-sensory-motor experiences that enable concept learning in a wholesome manner.
4) Well-equipped educators
Early educators play an important role in moulding a child's overall learning experience.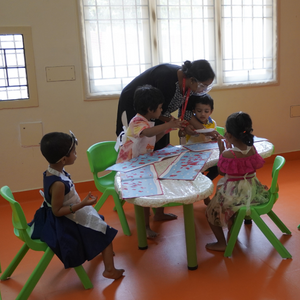 This is why educators at Flintoclass undergo in-depth training that ensures they are well-prepared to manage and guide every child through their preschool journey.
They are also trained in first aid and managing separation anxiety in children.
Since Flintoclass has a child-centric approach, the teacher becomes a catalyst to encourage learning in children.
In a sense, they pay attention to every child and guide them through the different activities. This is also why the number of kids in a classroom is set at 6 per class to a teacher.
At the end of each day, the educators interact with the parents to provide an update about the day-to-day progress of their child!
5) Adherence to global standards of education
Flintoclass is the brainchild of the state-of-the-art research foundation, Flinto Early Learning Research Centre.
The curriculum has been designed based on the learning outcomes and studies conducted by Indian and global researchers.
Thus, ensuring the quality of preschool education and materials provided to children are of top quality.
The curriculum adheres to the international education standards set by PACE, NAEYC, CCE, etc.
In addition…
Flintoclass has a transparent policy with our educators informing the parents about their child's progress and providing take-home materials. Also, instant communication is sent via app about their child's day at the preschool.
In Conclusion: Flintoclass is your child's second home
Flintoclass has been a front-runner in the preschool education space since 2017.
Children are at its core.
So, the motivation is to ensure every child is an independent thinker and gains a lifelong love for learning!
Thus, when you choose Flintoclass as your child's preschool, it is indeed the best preschool near you!