When you plan to enrol your child in a preschool, what is that you look for?
"How is this preschool style suitable for my child?"
"What is the right kind of learning environment suitable for them?"
"What are my child's strengths?"
Finding the right preschool can be a hassle for us parents, right?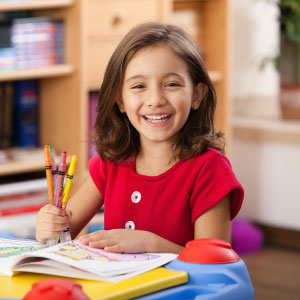 You will do research, ask other parents, do the leg work and then decide.
In short, you'll have to invest a lot of time and energy in making the right decision!
What if we can help you get started with the kind of preschool you're looking for?
In this article, we will look into why a preschool is important for your child's learning; two preschool styles; their pros and cons.
Why preschool is good for your child
Preschool is the first step towards a child's educational journey and it lays the foundation for their overall development and lifelong learning.
A good preschool can channelize the energy of children in a constructive manner; fuel their imagination and creativity; introduce them to basic concepts of learning.
That's not all!
The experiences children receive during these preschool years have a tremendous impact on their overall development. It will help them develop socially and emotionally.
There are several kinds of preschools out there, but each preschool can be defined by whether they are traditional or child-centred.
But how do you know what is best for your child?
When researching the best preschool style for your child, consider the preschool's philosophy, mission statement, vision, goals, teacher credentials, curriculum, safety, discipline, and cost.
Then, develop a pros and cons list to decide which preschool fits the best for your child.
Let's look into the different aspects of traditional and child-centred preschools.
RELATED: How To Select The Best Curriculum For Your Preschooler
Preschool styles: traditional & child-centred
What Are Traditional Preschools?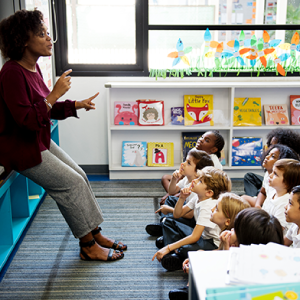 Traditional preschools are considered to be teacher-centric.
The traditional preschools follow a 'listen and write' approach where the classroom, learning, and play will be very structured, and routine based.
Let's take a look at how this will benefit your child.
Pros Of Traditional Preschools
Organized Structure
Traditional preschools have a well-organized structure and foundation.
From curriculum to extra-curricular activities and everyday timetables, everything is pre-planned.
Here, children spend most of their time learning the alphabet, numbers, colours, shapes and so on.
Punctuality And Discipline
Having a certain time slot for every period, recess time, and so on are pre-planned and done as a matter of routine.
This gives both students a feeling of uniformity and makes them more disciplined and civilised.
Inclusiveness
In a traditional preschool, everyone has to follow the same rules and regulations.
This gives children a sense of belonging.
Competitiveness
Traditional preschools mostly provide tasks that are geared toward academic success and encourage children to have a competitive spirit.
Children are provided opportunities to compete against each other and get the best out of themselves.
Socializing
Interaction with teachers and other children adds to the kids' learning process. This develops their social skills.
This learning atmosphere helps children stay focused and keeps them motivated.
Cons of Traditional Preschool
Passive learning
In a traditional preschool style, the teacher is the only source of information.
Students don't make the effort to learn new things themselves.
It is teacher-directed where a teacher imparts specific concepts to a group of children, and everyone learns the same concept at the same time.
Monotonous learning process
Most of the activities are product-based and learning takes place primarily through memorization and repetition of abstract concepts.
This can make learning boring for kids.
Too much academics can lose children's interests and motivation in learning.
Uniform learning capacity
Students have different learning capacities.
Since it is teacher-directed where a teacher imparts specific concepts to a group of children and everyone learns the same concept at the same time. So, all of them will have a stress to learn at the same pace.
This means that not all
Lack of critical thinking
Traditional teaching methods focus more on memorizing, gathering facts, and learning by coercion and less on critical thinking skills.
This doesn't allow children to think deeper on complex concepts.
Skewed evaluation process
The evaluation is done based on the memory power and not on the child's ability and knowledge.
What Are Child-Centered Preschools?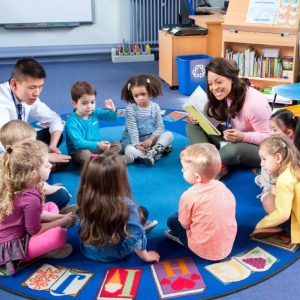 Child-centred preschools are structured around the fact that kids learn best through active play and exploration.
Here, children take responsibility for making choices about what they learn and explore.
Let's take a look at how this will benefit your child.
Pros Of Child-Centered Preschools
Hands-on learning
Everything learned is through first-hand and hands-on experiences, where children explore, experiment, discover, learn and solve problems in a fun and imaginative way.
Unstructured play can be incredibly motivating for preschool children.
Learn at their pace
The teachers will be trained to recognize and address each child's unique learning style, allowing them to learn at their own pace and explore their own interests.
When children are allowed to follow their own interests, they feel more energised and engaged within their environment.
Focus on all areas of development
The core of child-centred preschool is to help children become independent, responsible, and confident.
Therefore, all areas of a child's development are emphasized, including social, emotional, physical and cognitive.
Ownership and independence
Children learn to direct their own learning, ask questions, and complete tasks independently.
This encourages creativity, originality, and responsibility and makes them self-regulated and self-disciplined.
Active learning
In a child-centred preschool, knowledge is the combined efforts of the teacher and the students.
The teachers also encourage the kids to explore on their own.
Cons Of Child-Centered Preschools
Classroom management
Classroom management in a child-centred preschool can be difficult as all the children may not be in the same task, making it difficult to manage time.
Difficult to evaluate
As all the children have unique learning styles and are on different tasks, it will be difficult to assess and evaluate them.
Conclusion: Choose your child's preschool style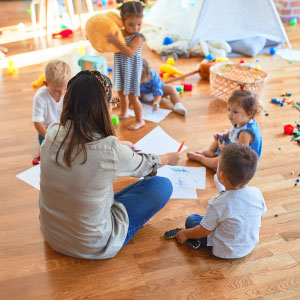 Some children do best in child-centred preschool programs, while others are happier with the traditional preschool approach.
You know your child the best and you know what will benefit them.
So, pick the preschool style that suits your child the best.
PS: Looking For A Child-Centric Preschool For Your Child?
Then check out FlintoClass!
Flintoclass is an international award-winning learning program. With Flintoclass, each child is allowed to explore and experiment with their learning.
The activities are designed to aid the overall development of each child and include cognitive, language, social, emotional, and physical areas of development.
The curriculum also provides a cultural context to the learning, thereby ensuring children are rendered appropriate early learning opportunities. Learn more about Flintoclass >>