When the pandemic struck in 2020 and most preschools either closed down or turned completely digital, Flinto introduced Flintoclass@HOME — a hybrid preschool program to ensure no child misses out on the much-needed hands-on learning in a safe and secure environment!

Backed by 8 years of extensive research and development, Flinto is recognized as the pioneer of early learning and has won prestigious awards like "TiE Startup the Year" and "Academics' Choice – USA".
Flintoclass@HOME is a Made-in-India solution to deliver preschool education at home – a complete preschool kit with all necessary materials and instructions, that provides age-appropriate, hands-on, and positive learning experiences for children. 
It is designed for uncompromisable skill development in children belonging to the crucial age of 1.5-6 years.
In the current situation, where preschools are closed and children are also not able to play outside, children need a solution like Flintoclass@HOME for their mental and physical well-being. While school-going children are trying to adapt to online education, it is neither recommended nor viable for children below 6 years to have the learning delivered completely online because of the following reasons:
1. Being the most important stage where maximum brain development occurs, too much screen time can be detrimental to a child's overall well-being.
2. It is not in a 2-year old's nature to sit idle in front of a screen. Preschool children need to explore, use their visual/auditory/kinesthetic senses, and engage with different materials to gain skills for the future.
3. Online classes have proven to be ineffective for preschoolers and do nothing to stimulate their attention span.
This is why Flintoclass@HOME was designed. There are currently over 1 lakh students across the length and breadth of the country, who love learning at home with Flinto.
Moreover, families — especially working mothers, are today struggling to provide appropriate positive engagement while managing work from home. Flintoclass not only delivers early learning to children but also a stress-free environment for parents under the current circumstances.
Let's take a look at 5 main reasons why Flintoclass is the most sought-after preschool program:
1) Award-winning curriculum: From following international standards of safety to designing a research-driven, child-centric curriculum, we go all out to ensure your little one receives nothing but the very best during this vital stage of development. The skills they acquire here lay the foundation for lifelong learning.
The curriculum is a culmination of methodologies including Playway, John Dewey, Waldorf, and Multiple Intelligence. We break conventional stereotypes and provide 575+ unique multi-disciplinary experiences for children all through the year. The curriculum is completely play-based, making the experience fun and enjoyable for the child!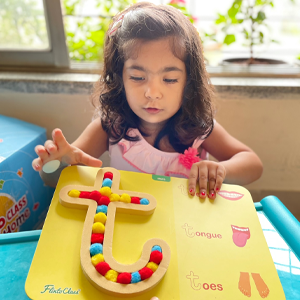 2) 100% Safe: With Flintoclass, there is zero compromise on safety! For one, your child will be able to continue their early education from the comfort of your home — anytime and anywhere!
Secondly, you don't have to step out for anything, since the entire preschool kit with all the lesson plans and A-Z of learning materials get shipped straight to your doorstep. Thirdly, the materials are child-friendly and tested for their safety, so you can rest assured that your child's education is in good hands!
3) Super Convenient: The program is designed in such a way that it is convenient for busy parents. The lesson plans are structured by Day and the materials are packed and shipped in Day-Wise bags. The lessons also come with simple and easy-to-follow step-by-step instructions.
Since all the learning materials are shipped home, as parents you won't have to worry about cutting, pasting and prepping for the daily lessons — everything is done, packed and shipped as a ready-to-use solution! Moreover, the pre-recorded guidance sessions by experts follow a learn-at-your-own-pace model, and can be watched at any time! While it is good to fix a routine and follow a schedule for the child, Flintoclass gives parents the liberty to choose an appropriate time in their busy day.
4) NOT a pure online preschool: Unlike most preschools that have resorted to online classes, Flintoclass follows a HYBRID program which combines the best of hands-on education with pre-recorded virtual guidance sessions by experts.
Since it is digitally minimal, children experience learning in a sensorial, practical manner, making it right for their developmental stage. The hands-on materials provided in the kit are attractive and play-based, making the learning fun and meaningful!
5) All-round development: Flinto's child-centric approach fosters independent thinking, conceptual understanding & creative learning. Be it numeracy, literacy, art or science, the materials are fun, hands-on and play-based, making the learning process an enjoyable one!
Moreover, there is an emphasis on 16 key skills for physical, cognitive, social, emotional, language & holistic development. All in all, it is a stress-free environment that promotes the deepest level of love & enthusiasm for lifelong learning!
In just one year, more than 1.63 million parents have chosen Flintoclass@HOME for their kids. Moreover, it has won prestigious awards and recognition by educators and early childhood specialists! Here's what parents have to say about it: