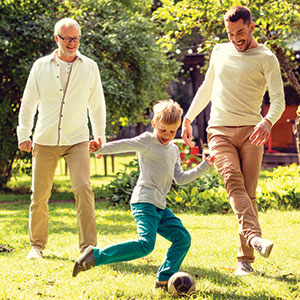 One of the things that the pandemic ushered in is the space to be physically active.
Is your child physically active enough per day?
How can you include more physical fitness into their day-to-day life?
Does running around the house count as an exercise for your child?
If you have such questions on your mind, then this article is for you
So, let's understand how physical activities impact your child, what are the different activities you can include indoors, and more!
Why is physical activity good for your child?
Physical fitness for your child is different from an adult.
It all relates to running, walking, skipping, hopping, various activities that involve their gross motor movements — in short, playing!
Physical activities have major health impacts on your child:
Strengthens their muscles and bones
Keeps their heart and lungs healthy
Helps maintain a healthy body weight
Improves their flexibility and posture
Helps them become confident
Makes them relaxed and sleep better
Improves concentration
So, keeping your child physically active becomes important.
But how is that possible?
Simple! By having a routine!
How to create a physical activity routine?
Physical activities can help set your child's routine in place from when and what they eat to when they sleep.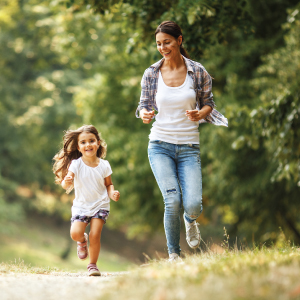 Choose a suitable time
Depending on your child's age, you can choose a time suitable for them to exercise or be physically active during that time every day.
Set aside a minimum of 1-2 hours of physical playtime depending on your child's age.
Follow the timing until your child becomes comfortable.
Select age-appropriate activities
You can have a combination of structured and unstructured physical activities.
Perhaps, your child has a sports class they attend or your child and you do yoga or simple exercises. These would be structured physical activities.
Unstructured physical activities would be how they run around the house, dance to a tune, ride their bicycle, etc.
Set aside the time and adapt the outdoor exercises for your child to do indoors or in a safer manner in the park!
We have put together 10 physical activities that you can try now!
10 must-try physical activities for your child
1) Running or walking
This is probably what your child naturally does. Running or walking around the house and in the park! Let this be part of their regular physical activity.
You can add the start and stop points for your child to run between. You can draw an 8, 0, or any other number/alphabets and encourage your child to run around.
2) Play Catch
Set space aside in your house or in the park for you and your child to play catch. This is a wonderful hand-eye coordination exercise for your little one.
To top it also, it is a lot of fun!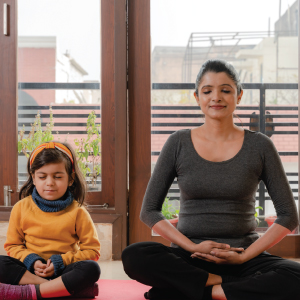 3) Yoga
Your child and you can try simple yoga poses that you have learnt or enrol in an online yoga class for your child.
Yoga has many benefits from flexibility and relaxation to a better sleep cycle.
4) Obstacle course
Create your own obstacle course using chairs, tables, pillows, tapes and much more. Your child could crawl under the table and chair to reach a point.
As they go through the obstacle course, they can collect something. Eg: their toys, ball, etc.
5) Dancing
Dancing improves a child's coordination and makes them confident of their movements.
You can simply play music for a set period of time and allow your child to dance around. You can give them ribbons to move their hands around with.
If your child has an inclination, enrol them in a class!
6) Gardening
How about taking care of the garden? Your little helper can help you water the plants, pot or re-pot the plants.
Taking care of plants enables your child to be empathetic and enhances their moods. This can improve your child's coordination and tone their muscles.
7) Hopscotch
All that jumping and hopping surely can enhance your child's equilibrium and strengthen their leg muscles.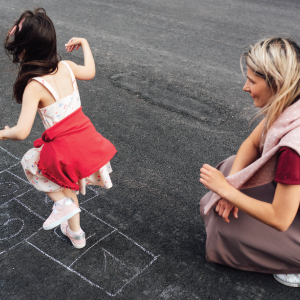 Draw hopscotch with as many numbers as you want in a safe space and let your child jump away!
Imagine how confident your child becomes!
8) Hula hoops
Hula hooping is a fun and wonderful physical activity!
If your child already has learnt to hula hoop, then just set aside time for them to do this every day.
You can teach them to hula-hoop as it can improve their posture and overall coordination.
9) Balloon badminton
Fill up the balloon and use your hands as badminton and play with your child!
This enhances your child's coordination, concentration, and it is a lot of fun!
RELATED: 5 Major Causes Of Concentration Problems In Children – And What To Do About It
10) Number jumping
This is similar to hopscotch but your child is jumping from one number to another.
Write the numbers on the floor or on a surface and encourage your child to jump.
If your child is too young to jump, then write the numbers in a straight line and ask them to walk on the numbers.
To conclude: Exercising every day keeps your child healthy
Apart from eating healthy, having an optimum physical activity time can boost your child's overall development.
Having a healthy approach to physical fitness can benefit your child as it removes inhibitions for them to be healthy as they grow up. They would be more open to exercising as they grow older.
And a big plus, it encourages family time!
You May Also Like:
12 Must-Try Extracurricular Activities For After-School Engagement
5 Ways To Improve Your Child's Social Skills