Most preschools have a set of intentions and a belief based on which the students are taught.
Based on these beliefs, teachers use lesson plans and rubrics for assessing student progress.
The nursery curriculum in India takes into account the length of the preschool day.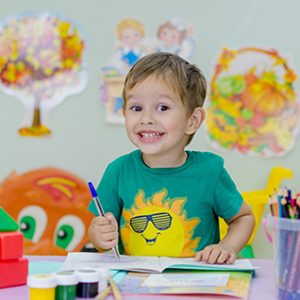 Some preschools run for only a few hours a day, while others (especially in public school settings) operate all day.
Some even run longer than a typical school day to cover all the parent's work hours.
Unlike most early learning programs, the Flintoclass@HOME preschool syllabus in India is child-centric and a culmination of multiple curriculums. It is designed by the Flinto R&D Centre.
The Centre houses child psychologists, game designers, curriculum researchers, pedagogy experts and more!
The Flintoclass curriculum is a child-centric preschool syllabus and is a culmination of methodologies — including Playway, John Dewey, Waldorf, and Multiple Intelligence.
The focus is on communication and language development; literacy; cognitive development; creativity; physical development; social and emotional development; science, social studies and technology. 
Let me break the curricula down for you…
Playway methodology
The Playway curriculum believes in teaching children concepts through games and play.
The curriculum focuses on activity-based learning: children learn through mental and physical activities, which stimulate their skills and self-expression.
Multiple intelligence
The Multiple Intelligence theory is based on encouraging students to develop skills to seek solutions to the problems that arise.
The curriculum provides them with ample opportunities that encourage children to think critically and develop analytical thinking.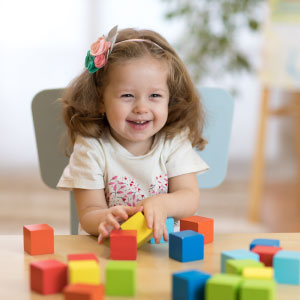 Waldorf curriculum
The Waldorf curriculum style was designed by the Austrian educator, Rudolf Steiner.
This curriculum provides students with hands-on, play-based learning in preschools that happens in a home-like setting with predictable routines.
A conscious effort is made to keep the children away from electronic devices.
John Dewey's curriculum theory
John Dewey's style of curriculum believes in hands-on learning and experience is the central aspect of education.
Problem-solving and applying reflective or critical inquiry to solve the problems is the aim of education.
The Flintoclass@HOME preschool program has taken all of the above curriculums into account making it a well-rounded syllabus for holistic growth.
Here's an age-wise breakdown of what the Flintoclass curriculum covers:
Playgroup Curriculum [For 1.5-2.5 Year Olds]
Respond to calls

Listen and respond to rhymes and songs

Follow two-step instructions

Engage in two-way verbal communication

Build a vocabulary of 50-70 words

Point to pictures in a book and objects when named

Develop awareness of numerals

Show interest in counting

Recognize basic shapes

Sort based on colour, shape, and size

Explore how objects fit together
For an extensive list of what your child will learn, click here >>
RELATED: [Complete Guide] How to teach your toddler to identify colours
Nursery Curriculum [For 2.5-3.5 Year Olds]
Build a vocabulary of 150-200 words
Sort based on variation in size and concept 
Flip and rotate to fix objects
Attempt to complete tasks independently 
Express feelings and needs through words and begin to label emotions
Recognize photos of friends, family and talk about special people 
Begin to make friends 
Identify similarities and differences among people from familiar experiences 
Develop interest for things around while playing
For an extensive list of what your child will learn through the curriculum for nursery, click here >>
Lower-KG Curriculum [For 3.5-4.5 Year Olds]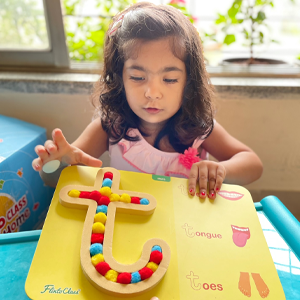 Form simple sentences in conversation 
Begin to develop phonemic awareness of letters 
Recognize small and capital letters and read simple words 
Duplicate letterforms, shapes, and symbols 
Trace letters and numerals
Understand quantity and sequences numbers; compares less and more in a group
Walk-in a straight line; throw overhand; aim and throw 
Use precise hand movement
For an extensive list of what your child will learn, click here >>
Upper-KG Curriculum [For 4.5-6 Year Olds]
Speak clearly with the use of about 2000 words of vocabulary
Develop phonemic awareness and understand the vowels and blending sounds
Recognize numerals between 50-100
Understand ascending, descending order, lesser/greater of a number
Understand the environment around them, make an observation about plants and animals
Recognize different technology; ask questions; know to use a particular technology for a purpose
For an extensive list of what your child will learn, click here >>
Watch this video to learn more about the Flintoclass curriculum!
Flintoclass@HOME kit provides a variety of sensory materials that help in the cognitive development of children.
With all the materials being shipped directly to your doorstep, your child can learn from the safety of your home! 
The hands-on materials provided in the kit are attractive and play-based, making the learning fun and meaningful!
The best part is, the pre-recorded sessions give the flexibility to pursue the learning according to the convenience of the parent and child.
Along with this, you also get access to the Flintoclass parent dashboard to view lesson plans and track your child's daily progress!
So don't wait any further…